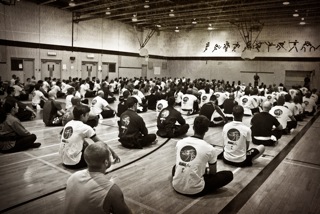 If you're seeking self-defense skills you can count on, physical conditioning, and a feeling of success across all of your life, then you're at the right place. As you've chosen Self-Defense/Kung-Fu, rest assured we won't waste your time in competitions. If you're interested in competitive self-defence, take a look at the Kickboxing/MMA classes instead.
You won't be asked to learn countless katas and forms: with over 46 years of experience, we've designed breakthrough ways of quickly grasping concepts or techniques so you can spend your time enjoying your training instead of being frustrated by it.
At PMA, we're not one of those "belt factories" either. We'll work with you on a one-on-one basis, this way we can decide together when you can test for your next rank in a smooth progressive manner.
Fang Shen Do caters to many different people. We've broken down the program in 3 sections: Men & Women, Kids and Families.
If you have any questions, feel free to reach out to us!
The meaning of Kung-Fu is "Mastering a skill" or "Excellence Achieved Through Long Practice". In essence, asking someone: "How's your Kung-Fu?" is really asking them:
Are you bettering yourself?
Are you constantly learning and improving?
Are you stepping out of your comfort zone?
Is there still room for growth or are you stagnating and making excuses?
So I ask YOU: "How's YOUR Kung-Fu?"
Chances are if you're reading this you need help with your Kung-Fu. And that's where we come in.
The Self-Defense/Kung-Fu program touches upon 3 major areas: